"Nexus One – Web meets Phone"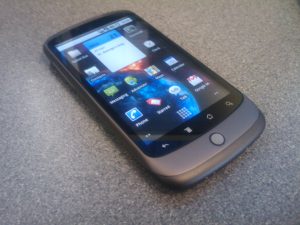 On Monday my shiny new Nexus One phone finally arrived!
The phone was ordered on 14th April but with all the recent disruptions to air traffic caused by the icelandic volcano, Eyjafjallajökull, delivery of my phone was delayed.
Overall I am really impressed with the phone. It's a lot more zippy than my older G1 and looks one hell of a lot nicer too. The UI is pretty similar to the G1's Android 1.6 but there are some significant differences. Most notably are the 2 extra home screens, giving the phone a total of 5 screens instead of 3. The AMOLED is sharp, bright and most importantly, larger which makes a nice change as it is a pleasure to look at. The phone is nicely weighted (not too heavy, not too light) and feels sturdy.
All this was expected though, given how long Android has been available on mobile devices and I think that Google and HTC have had ample time to perfect on the design. On the note of the design, one thing I (and probably many others) consider to be a flaw is the SDcard slot. You have to remove the battery to get at the card which is… not useful.
On the plus side however, I found the voice recognition very accurate with no training what so ever. I've spent a few hours crazily talking to my phone…
If you have any questions, please feel free to contact me (when the contact form works) or simply ask Google to lend its wisdom.